Talent Questionaire-Complimentary Evaluation by a Producer!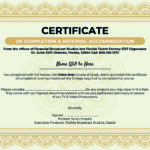 Florida Broadcast Studios
Creators of the Income Channel & The Florida Talent Factory is offering FAST TRACK Workshops working in actual TV Productions!

Who wants to be in Television? We want you!
Voice-over Careers! Acting! Producers! TV Spokesmodels! Talent Scouts!
 Inexpensive Crash Course Workshops working on actual productions, documentaries, missing children's programs, educational videos, TV commercials and programs, video courses and seminars, and dozens of ongoing projects, which show on over 14 different streaming websites, dozens of TV channels including but not limited to: Roku, Apple TV, Amazon Firestick, You Tube, and Cable, among others.

These programs run on our Income Channel as well other networks depending on the type of programming, seen in virtually every home in the country.
Talent for these productions are pulled from our "Florida Talent Factory" Studio in Orlando, Florida, who participate in our live production workshops, where students gain on camera experience while building a demo reel, which is critical to creating a resume to get future gigs in the entertainment industry.
We also create for our students, an online profile image, headshot, and demo reel that can be seen on our "Hire a Voice," "Hire an Actor," or "Hire a Production" help links on our website! Our newsletter featuring our past, current, and upcoming projects, go out to the top 200 casting directors, agents, and producers, including networks, channels, & private content creators!
Students can learn in a few hours Everything They Need to Succeed! If you know what your doing, you do not need a lot of space, time, or money.
Our studio also offers many other workshops like our Bartending Crash Course, a FastTrack training and job referral which helps students find work in the local market.
There are dozens of this type of crash course workshops where we can help get students into high paying other careers, income opportunities, high return passive investments, real estate, and other business opportunities. We also include funding and credit acquisition secrets, strategies, and shortcuts, to be able to acquire financing to start a new business or acquire an existing one.
For a FREE 15 minute consultation, simply click on the button at the top of any page and schedule a quick Q & A with a producer!