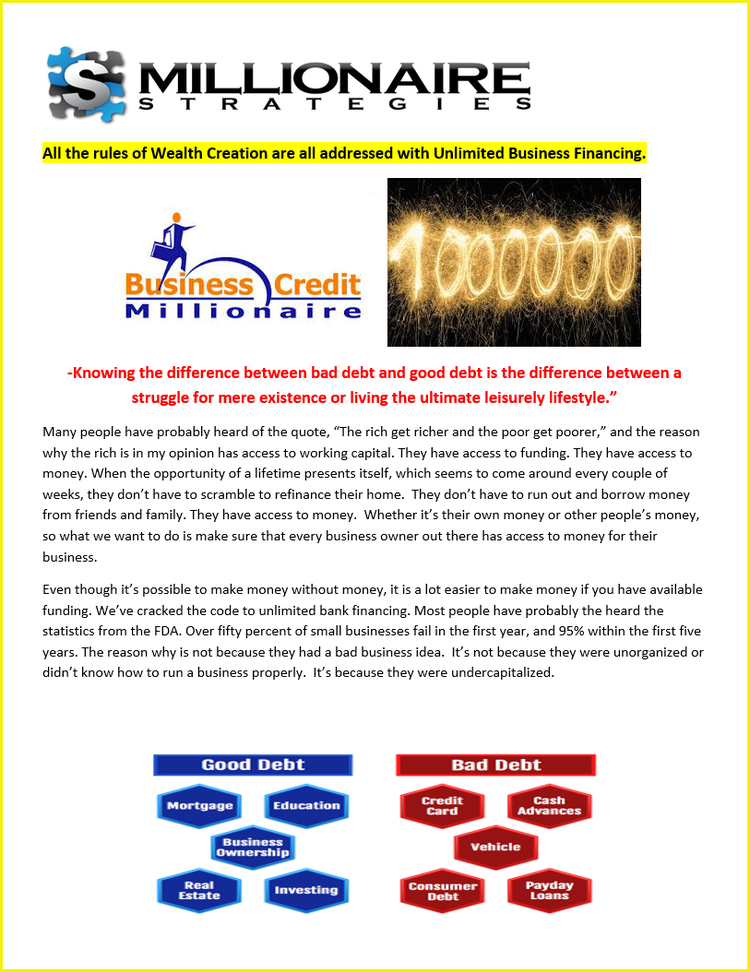 When we hear the words FREE, we instantly hear an offer. Some of us have been told that there is no such thing as FREE. The Credit Repair Method you are about to read is actually FREE! There are no signups at the end, no monthly memberships, no one at the finish line to grab your money. Credit is so important that if I could fix everyone's situation in life I would. We all know, that would be an impossible task for one person. What I can do however, is give away the same process I have used for years to help thousands of clients from my radio show which was heard all over the country and broadcast or many stations such as 880 the biz, 1600am, 1340am, and so on. I've also helped clients as far away as  Canada. All they had to do different is make a few adjustments due to the laws within their Country. My background in Credit runs deep, and I intend to lay it all out for you in this e-book. Everyone deserves a second opportunity, and even a third, fourth and fifth. Unfortunately the credit bureaus have a law which they rely on daily to protect themselves against frivolous and irrelevant claims. You can read it in the Fair Credit Reporting Act section 623 a). So you might not get a third, fourth, and fifth chance. You must get it right within the first two rounds. have also helped clients in the courtroom in Broward County Florida as well as those who are unable to leave their house. The credit system is a game for everyone to try to figure out. It can be as minor as fixing your debt utilization to as far as being forced to pay debts that are not yours. The system I have used and created, creates challenges for the people you will go up against within the dispute process. I wish you well and I hope this information is used by you in a proper and legal manner!
Stay Well!
Credit Repair is one of the most sought after businesses on the planet. That is because 79% of all credit reports contain errors. Many errors on reports can lead to credit score damage, loan denials or debt being incorrectly sent to collections and the effect of that damage can trickle down into other aspects of a consumer's life. So what is the solution? Offer to help your local consumers by helping to restore their credit. There are a few simple steps to take in order to complete a credit repair file. Let's look at the things you want to avoid first so you have a better understanding of the business.
SUBMIT A DISPUTE ONLINE: Filing a dispute online gives the credit bureaus the legal advantage they need over your disputes. When you submit a dispute online you give up your rights to sue the bureau. Also you should never use anyone of their credit monitoring services until you are done disputing all of the information. I recommend you get a copy of your credit report from www.annualcreditreport.com
SEND THEM YOUR LICENSE: Your Driver's license has a copy of your signature. By sending this to the bureau they can verify your signature against documents you may have signed
NEVER CLAIM IDENTITY THEFT: Unless you have a Police report and a FTC (Federal Trade Commission) report number. If you claim ID theft without these two pieces of data, they will deny your dispute and request these documents from you to support your claim. You just gave them a W in the win column. Now your down 0-1 to the bureaus and you have to submit the file again.
NEVER SUBMIT MULTIPLE DISPUTES WITHIN A 30 DAY SPAN: Doing so will get your file flagged as frivolous and irrelevant
CREDIT BUREAUS CAN BLOCK YOUR DISPUTES: If a CRA (credit reporting agency) determines your disputes to be frivolous or irrelevant they can literally block your disputes and this would cause great harm to your account for the next 7 years. Take the time and read the Fair Credit Reporting Act Section 623 (a).
DISPUTE A BANKRUPTCY WITH OTHER DISPUTES: Bankruptcies can be one of the more harder items to dispute. The information regarding your bankruptcy is public information. A simple Google search will result in your name showing up next to the BK filing. So avoid sending in this type of dispute when you are trying to dispute other items. Your whole file could be marked as frivolous. Dispute BK's by themselves
CORRECT STEPS TO RESTORE CREDIT
#1 GET A FREE CREDIT REPORT:
Go to www.annualcreditreport.com and request a copy of your Equifax, Experian, and Transunion reports.
#2 CHECK THE REPORTS FOR ERRORS:
Check the reports for collections, charge-offs, closed accounts with negative reporting history, repossessions, accounts with consumer statements that you did not authorize. Check the dates when the accounts report as open, check the closed dates. Check the date of the last payment and cross reference that data with what you or your customer has on file to be accurate.
#3 OPT OUT OF 3RD PARTY MONITORING SITES:
When you send a dispute to credit bureaus they will electronically look to verify the information through a system known as E-OSCAR. If you ask me the whole damn thing is a sham! However, here is how it works. Experian, Equifax and Transunion will send out a code looking to have the information on your report verified. They will not only send this information to the company reporting it, but they will try to verify certain data points through Innovis, LexisNexis which is also a part of SageStream, and ARS Advanced Resolution Services All of these companies keep a file on you. You must block and freeze your information before they release the data to Equifax, Transunion, or Experian. Doing this will increase your chances of having the items in question deleted
CORRECT STEPS TO RESTORE CREDIT
OPT OUT AND FREEZE LINKS:
#4 CREATE YOUR DISPUTE LETTERS:
Never use a online template from any of these companies that are online selling that crap. The credit bureaus first scan your letter when they receive them using AI technology. They are now able to see if you purchased this process from a company that they have already blacklisted for using deceptive practices. Everyone's situation is different. No two files should look alike unless it's a husband and wife sharing everything and still you would want to submit it differently.
#5 ADD YOUR REASON FOR DISPUTE:
I will give you a sample of the letter I used for the past 12 years. I have made so many changes to this letter every time I submitted it for a client.
Go to the next slide for the sample letter..
CORRECT STEPS TO RESTORE CREDIT
Dear Credit Bureau Investigator,
Upon reviewing my credit profile it has come to my attention that several accounts are being reported on my credit file that are not verified accounts of mine. The inaccurate information is being reported by your bureau and I have disputed this information with you under Section: 611 (A)(5) of the Fair Credit Reporting Act for which you were required to promptly 'DELETE ALL INFORMATION WHICH CANNOT BE VERIFIED." I have discovered new information upon doing my own internal investigation and my findings pertain to each account listed below. It has been proven that each debt collector listed below has failed to follow the proper procedures which are clearly stated within the Fair Debt Collection Practices Act (FDCPA) by FAILING to give me 30 days to respond to them. No notices were sent out to my address on file and as a result your credit bureau under Section 611 (a)(4) you must consider this new information and reinvestigate this dispute. Under section 611(a)(7) I am requesting a description of the reinvestigation procedure. You must provide it within 15 days from the date when you receive this request. Under Section 611(a)(8)- Alternative Expedited Dispute Resolution procedure, you must delete the disputed information from my consumer file within three business days from when you receive notice of this dispute. You must within five business days of deleting this information provide me with a written confirmation of the deletion and a copy of a consumer report reflecting the deletion.
INACCURATE INFORMATION REPORTING ON MY REPORT:
EXAMPLE COMPANY OPENED 05/31/2018 This account is reporting inaccurate information. The company has failed to report the accurate balance and I demand this account be deleted from my file immediately.
In addition I am requesting the following documents to be produced:
1. PLEASE PROVIDE TO ME THE ORIGINAL CONTRACT FOR THIS ACCOUNT FROM ALLY
FINANCIAL SERVICES.
2. THE PAY OFF DISCLOSURE PERTAINING TO THIS ACCOUNT
3. THE INTEREST RATE DISCLOSURE PERTAINING TO THIS ACCOUNT
4. THE COMPLETE BALANCE HISTORY PERTAINING TO THIS ACCOUNT
5. THE COMPLETE PAYMENT HISTORY PERTAINING TO THIS ACCOUNT.
If you do not initiate an investigation regarding my dispute, as is my right under the Fair Credit Reporting Act, I will have to take legal action to protect my credit rating. As I'm sure you are aware, each violation of the Fair Credit Reporting Act allows damages of $1000 should this matter end up in court.
CORRECT STEPS TO RESTORE CREDIT
Wow! I just gave you the secret sauce! I have literally had people try to steal this method from me by acting like fake business partners, fake family friends, showering me with gifts. In the end it's not always about the money. It's about the principle.
The credit bureaus legally have 30 business days to respond to every dispute. That is why you will see automated letters come to your house asking for your ID to complete the process. Trust me they do not need that information. If you call over the phone, they are now having you take a picture of your ID front and back and of your FACE. They are really just looking to capture your signature and face to run AI
software against your profile. Avoid this crap. Send all of your dispute letters via certified mail. This will allow you to know when they receive the letter and start the clock.
#7 INVESTIGATE THE RESULTS:
In 30 days or less the credit bureaus will have completed their investigation into your disputes. They will not use the extension of 15 days that they are allowed by law, because it's all automated anyway. Check your report and make sure the items you disputed have been addressed to your satisfaction. If not, move on to the next step.
#8 FILE A COMPLAINT WITH CONSUMER FINANCIAL PROTECTION BUREAU:
 Keep in mind it is against the law to file a complaint if you know your information is false. So make sure you are moving forward because you feel the investigation into your disputes could have been performed better. That is the reasonable reason here. Include the credit bureau that failed to do a thorough investigation. You can also add the company in question as well. The CFPB will reach out the credit bureaus and you will get a response quickly. They will also reach out to the companies on your behalf. Now if you're doing something unethical, they will reach out to you as well! I'm giving you the sauce, don't abuse it in the wrong manner.
After 30 to 60 days your file should be in a position to start building credit and getting approved for loans. So let's move on to the next section.
Ready to open your business? I will setup your entire business including registration and get you an EIN number that you will need to open your business bank account. I will also build you a website for your customers to visit. It's 2022 who does not have a website!
You will need it. I will also handle the SEO for the domain you select so customers can find you in your local area.
Contact me at the email address listed on my website www.crazycash.online You can request a callback Monday through Friday. Our quick consultation call will point you in the right direction.
7 VENDORS WHO CAN HELP YOU BUILD BUSINESS CREDIT WITH NO PERSONAL GUARANTEE
Are you looking for business credit and financing to help your
business grow? We at Credit Suite can help. Give us a call, at
877-600-2487, or email us at info@creditsuite.com and we can help
you with all of these methods and more. Contact us today for
more information.
Build Unbeatable Business Credit – Start with 7 Vendors
Did you know that you can immediately get vendor business credit accounts that are linked to your EIN not your SSN even if you have bad personal credit now? We have the vendors you can actually use to build your initial business credit profile and score. In this guide, we also show you how to use your newly established credit profile to get approved with a wide variety of major retailers. And we show you how you can access loans even when banks say "NO". Plus, we show you how to make money offering business credit and financing. And don't forget our BONUSES!
Most People FAIL Trying to Start Building Business Credit
Most don't know that EIN credit can be built regardless of personal credit quality. Many don't understand the business credit building process. Most don't know the right vendors to apply for and which order to apply. Many don't know how to get approved with the vendors.
This guide is for you if…
You are looking for money to grow or expand your business

You want HIGH limit credit business credit accounts that aren't linked to your SSN

You want the easiest and fastest way to get the most  money for your business

You want to get credit lines and loans

 
Business credit is credit for your business EIN that's not linked to your personal SSN. It can be used for the business to fund itself. You can obtain business credit with no consumer credit check and no personal credit reporting. You can get approved without a personal guarantee, which is REQUIRED to get
approved for bank financing, and to get the most money at the best terms. But by following the steps outlined today, you can get vendor
credit IMMEDIATELY. You can then use it to get retail, fleet, and cash credit. You can expect approval limits to be 10 – 100 times those of typical consumer limits. And keep in mind; ANYONEcan see your business credit reports without your permission!
YES! You can get approved
Even if the banks have said 'NO'
Even when you have no prior credit reporting
NO DOC, no banks or tax returns required
As a nonprofit
Regardless of consumer credit quality
As long as you have a U.S. business
But don't just take our word for it. Let's look at what one of our clients has to say.Deaphalis and Thelma Sample, Success Tax Relief, LaPorte Texas
"We went to our bank to get a business line of credit and they turned us down. We got started with Credit Suite set up our business credibly and built our business credit. After following the steps we've now secured over $96,000 in business credit cards and just applied for the platinum American Express and got approved instantly with no limit. Now we have 4 – 5 different companies call us every day trying to give us money, and that's a really good problem to have! We're excited, and if you don't have business credit yet you should get involved with Credit Suite to have the same results we have."
Vendor Credit 101

Don't Do This!
Having an EIN doesn't mean you have established credit. If you go to a bank or retailer, and you try to get credit using your EIN with no credit established, you'll ALWAYS get a denial, guaranteed! That is, unless you already have good personal credit and used it to get approval while supplying your personal guarantee.
Building Business Credit the Right Way
You can't start with the roof; you must start with the foundation first and build up. You can't start with store or cash credit from your bank. If you do, you'll be denied 100% of the time. First you must build trade lines that report. This is also known as the vendor credit tier. Once you have done so, then you'll have an established credit profile, and then you'll get a business credit score. And with an established business credit profile and score you can start getting retail store and cash credit.
Vendor credit comes from trade vendors who issue credit to their customers to buy their products or services. This is credit you can and SHOULD use to grow your business while you're building your business credit. Most vendor credit has terms like Net 15, Net 30, Net 55, or Net 60. So, if you are approved for $1,000 in vendor credit and use all of it, you must pay that money back in a set term, such as within 30 days on a Net 30 account
Vendor Credit is an important step in building business credit. It is easier to get than retail or fleet credit but it can lead to
store and fleet credit. Establishing initial business credit will help you get loans and credit lines. This process is PROVEN to work!Did you know that 97% of trade vendors don't report customer payments to the business reporting agencies? And of the ones who do, even fewer will give you credit with no personal guarantee when you have none reporting now. So, you need to find vendors who do report and who will approve you for initial credit when you have none reporting on your business reports now.
Steps to Get Vendor Credit
First, you'll want to pick a vendor you want to get credit from. Find items in their store and put them in your cart. Set up an account with them online. Choose the payment option similar to invoice me. Wait and check your email! You'll either get an email telling you the item shipped, or a call or emailstating they can't approve you. If denied, you have two choices. You can get more credit and apply again or pay for those items and repeat the purchasing and applying process until approved. Once approved, make a purchase and then when you have been billed make the payment. From the time you make the payment it typically takes 30 to 45 days for the account to report to the Business Credit bureaus.Once reported, then you have trade lines and an established credit profile and score.Using a newly established business credit profile and score, you can then START to get approval for retail credit.
This is possible because now your EIN credit profile is established. It can stand on its own. So, if you leave your Social Security number off of the application, the credit issuer then pulls your EIN credit, sees a solid profile and score, and can then approve you for real revolving credit. Bank-backed credit cards may still ask for your SSN and date of birth for verification purposes only.
7 Vendors Who Will Approve You and Report
They sell shipping, packing and industrial supplies, and they report to Dun & Bradstreet and Experian. You MUST have a D-UN-S number and an EIN before starting with them. They will ask for your business bank information. Your business address must be uniform everywhere. You need for an order to be $50 or more before they'll report it. Your first few orders might need to be prepaid initially so your company can get approved for Net 30 terms.
They sell low price electronics. Get custom design and branding services. Create your own logo, business cards, business accessories and more. They report to Dun and Bradstreet and Equifax. Terms are Net 30. Here's how to qualify:
Yourbusiness entity must be in good standing with the applicable Secretary of State
Payan application fee of $89
Yourbusiness must have a business credit history
Youmust have an EIN
Atleast 90 days for time in business
Businessaddress (matching everywhere)
Businesslicense (if applicable)
Abusiness bank account
Apply online or over the phone. Visit them at: https://theceocreative.com
Grainger Industrial Supply
They sell hardware, power tools, pumps and more. They also do fleet maintenance.
Toqualify, you need the following:
Abusiness license (if applicable)
AnEIN number
Abusiness address matching everywhere

Abusiness bank account
ADUNS number from Dun & Bradstreet

Your business entity must be in good standing with the applicable Secretary of State. If your business doesn't have an established credit, they will require additional documents like accounts payable, income statement, balance sheets, and the like.

Apply online or over the phone. Visit them at: www.grainger.com. 
Marathon Petroleum Company provides transportation fuels, asphalt, and specialty products throughout the United States. Their comprehensive product line supports commercial, industrial, and retail operations. This card reports to Dun & Bradstreet, Experian, and Equifax. Before applying for multiple accounts with WEX Fleet cards, make sure to have enough time in between applying so they don't red-flag your account for fraud.
To qualify, you need:
Entityin good standing with Secretary of State
EINnumber with IRS
Businessaddress- matching everywhere
D-U-N-Snumber
BusinessLicense (if applicable)
Businessbank account
Businessphone number listed on 411
Your SSN is required for informational purposes. If concerned they will pull your personal credit talk to their credit department before applying. You can give a $500 deposit instead of using a personal guarantee, if in business less than a year. Apply online. Terms are Net 15. Get it here: www.marathonbrand.com.
76
76 is owned by Phillips 66 Company. They sell gas in more than 1,800 retail fuel sites in the United States. Terms are Net 15. This card reports to Dun & Bradstreet, Experian, and Equifax.
To qualify, you need:
An EIN
To have your business entityin good standing with the applicable Secretary of State
Businessaddress (matching everywhere)
Businesslicense (if applicable)
AD-U-N-S number
Abusiness bank account
Abusiness bank account
Businessphone number listed in 411
SSN is required for informational purposes. If concernedthey will pull your personal credit, talk to their credit department before applying
Ifnot approved based on business credit history or been in business less than 1 year, then a $500 deposit is needed or a Personal Guarantee (PG)
Canbe used at any P66, 76, or Conoco fueling location

Apply online or over the phone.

Visit them at: https://www.76fleet.com

WEX Fleet

Get fleet cards from WEX, to repair and maintain the vehicles your business uses. They report to D&B, Equifax, and Experian.

Terms are Net 15 for the WEX Fleet Card, and Net 26Revolving for the WEX FlexCard
You can provide a deposit of $500 in lieu of a personalguarantee if you have been in business for less than one year
Fleetcards come with a rewards program
Before applying for multiple accounts with WEX Fleetcards, leave enough time between applications so they don't red flag your account for fraud

Visit them online at: wexinc.com/solutions/fleet-management

Supply Works

Home  Depot  Pro,  formerly  SupplyWorks,  is  a  single-source supplier for facilities maintenance supplies, including everything from cleaning and janitorial supplies and PPE to plumbing parts and lighting products. They report to Experian. Terms are Net

Theydo not accept virtual 

To qualify, you need to have:

Anentity in good standing with Secretary of State
EINnumber with IRS
Businessaddress (it must match everywhere) D-U-N-S number
Businesslicense (if applicable)
Abusiness bank account

Apply online or over the phone

Visit them online at: https://www.supplyworks.com
This is another option for funding. You can get 0% business credit lines. Get up to $150,000. This financing will report to the business CRAs. You need a credit score of 680 or better.
Start Building Business Credit with Our 7 Proven Vendors – and then the Sky's the Limit
If you are looking for business credit and financing to help your business grow, then we at Credit Suite can help. Give us a call, at 877-600-2487, or email us at info@creditsuite.com and we can help you with all of these methods and more. Contact us today for more information and learn how to get started.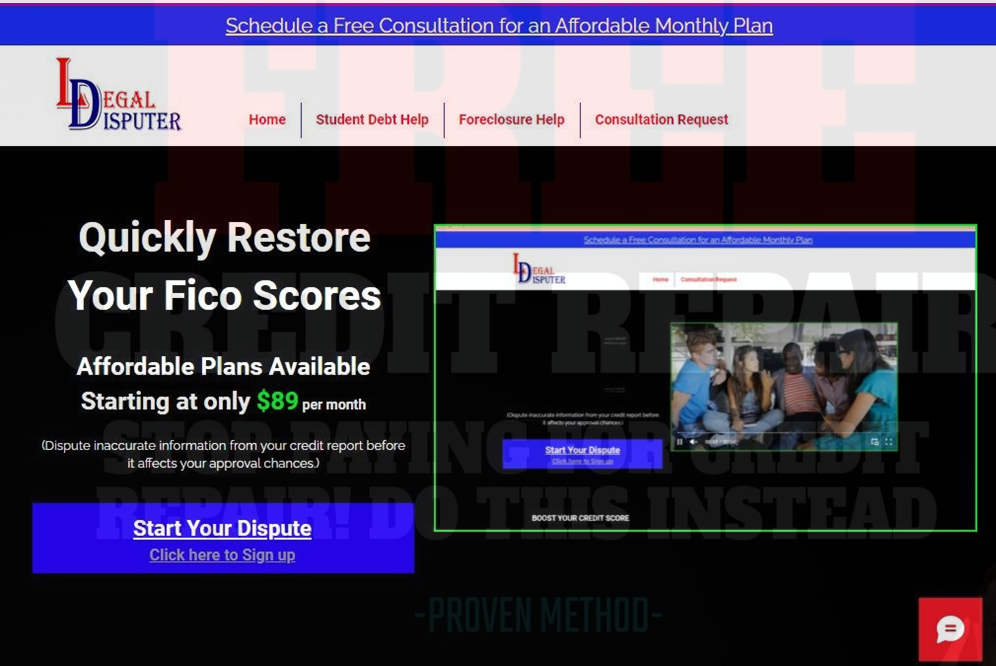 Bonus Offer: Get a 10% Discount on our Business Development package just because you downloaded the FREE credit repair EBook.
That's a savings of $349.90. You must mention this secret offer which is only found in this EBook. Let us build your business from scratch.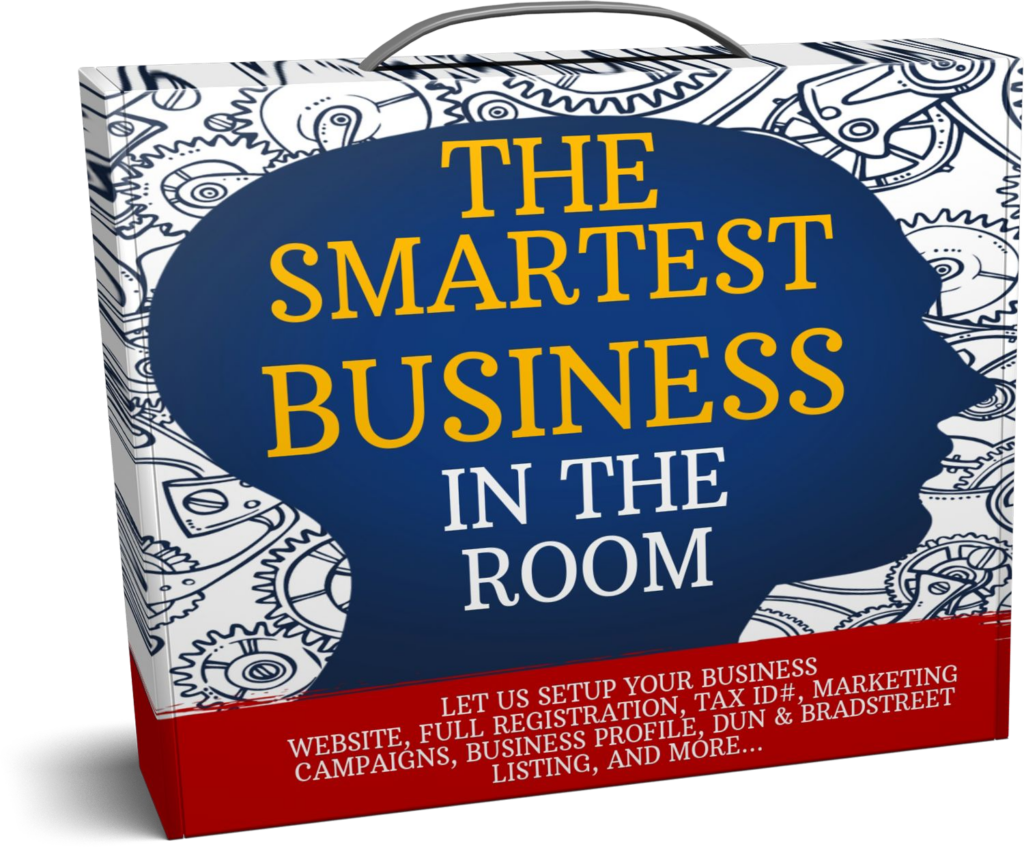 OFFER ONLY AVAILABLE IN THIS EBOOK!