Talent Questionaire-Complimentary Evaluation by a Producer!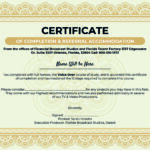 Who Do You Know Wants to Break into The Entertainment Business?
The Florida Talent Factory does something NO other talent agency, modeling or production school offers, actual Training while working in actual TV Productions! Workshops which teach AND show how they can break into the highly exciting, fun, financially rewarding, field of Entertainment, as a TV Host, voiceover Artist, Producer, or Actor!
No other career offers such an amazing lifestyle. Many can and will eventually command millions in salaries. Most of the people on TV now aren't any more special than you are. Don't underestimate yourself. Career satisfaction is virtually 100%, you can create your own destiny, and be creative till your hearts content.
One of the many sensational benefits of our TV Workshops is that you will "Work in actual TV Productions that air on 14 streaming networks including Roku, Apple TV, You Tube, Amazon Firestick, and 10 others.
You will be giving yourself global exposure while building a nice Demo Tape to send to producers and casting directors, in addition to putting your demo on our website as well as the other top talent hiring websites where producers and directors look and hire talent.
Opportunities exist for: Voice over artists, Actors, TV Hosts, Infomercial Spokesmodels, TV program hosts, *Impressionists, Character Voices, Cartoon Characters, And hundreds more opportunities!
The first step in this process is to schedule a FREE 15-minute consultation with a mentor who will explain in detail how to begin your career, and how to "Break into the entertainment" field quickly and easier than you think. We get you to 2nd base already, from there it's just a matter of deciding how much you want this.
Since you are working in actual TV productions, such as commercials, infomercials, programs, promotional ads, educational videos, etc. we can offer you highly reduced workshop costs, that the others cannot. They can charge Thousands of dollars for you to learn, but with our workshops, you can see how little the costs are for building you an amazing demo reel!
One on one mentor training which saves dozens of hours of learning: $199
Voiceover workshop in our Studio: $399 (4 sessions) Acting or TV Host/Spokesmodel workshop: $399 (4 sessions) Producer (Actual TV productions): $399 Headshots: (absolutely needed for other gigs) $399 Website Hosting & your own talent page: $199 and $19 per month) Private Sessions ( A super fastrack): $99 each EARNING Opportunity! Become a Talent Scout. (Help other prospects break into the Entertainment business by handing out a special invitation): $100 commissions for each student! Earn 1000s a week.
Click here and schedule your free 15-minute consultation and let's see if you have what it takes!

Make Thousands a week as a Talent Scout!
Make Thousands a week as a Talent Scout!
Just give out these 2 sided invitation cards! Nothing could be easier.
Everybody wants to be in the entertainment industry!
Give them to anyone you see, at malls, at play, at events.
You make $100 on every student who takes a $399 workshop!
This is the most fun way to make thousands a week without working!
We have other marketing methods we teach you in this one on one mentoring course
so let's get you started on a career opportunity while helping others break into the
entertainment field!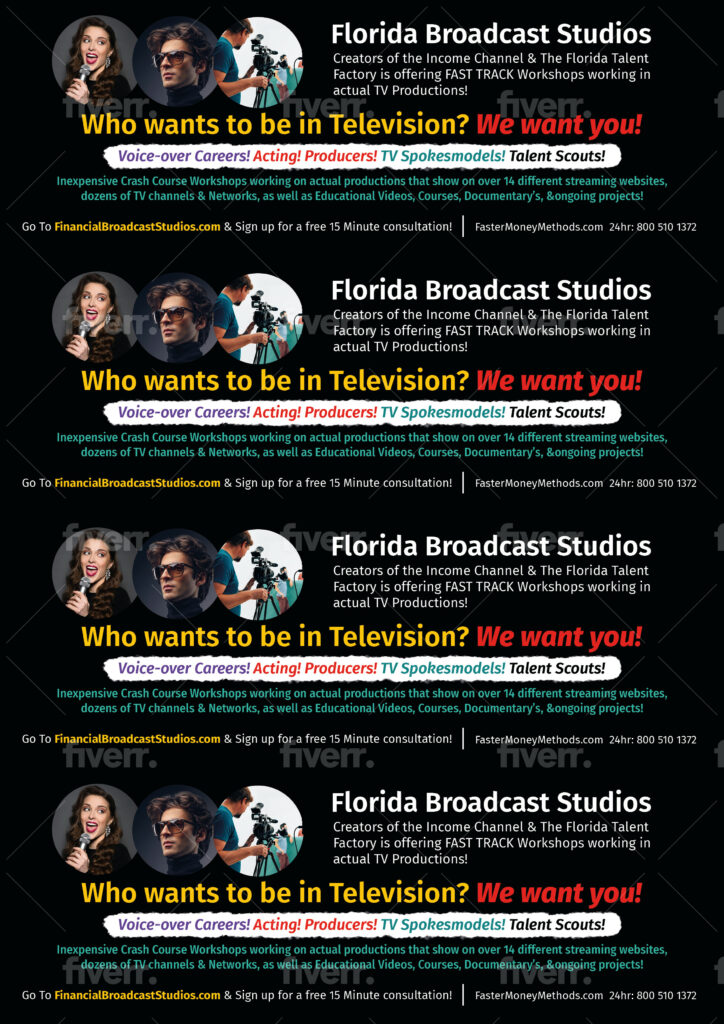 current and upcoming productions
These are just a few of the Networks, Stations, & Streaming Services we are seen on! Our customized app connects to over 14 Streaming Services alone!
Reaching Millions locally, Hundreds of Millions Nationally, & Billions Globally!